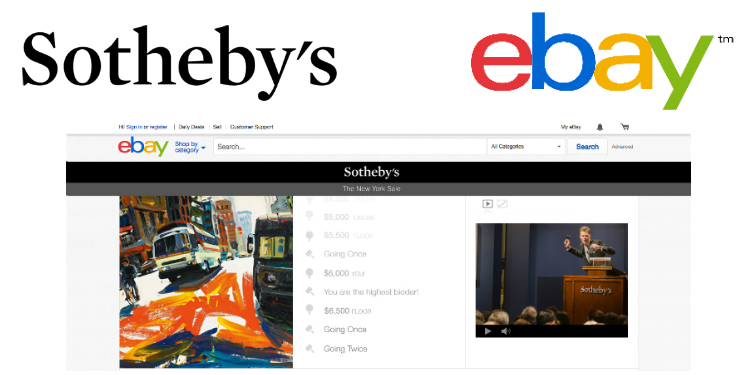 Sotheby's and eBay have announced that their first two live auctions will take place on 1st April 2015. The first will be a New York themed sale celebrating the city and the second a photography sale featuring works from 19th century, Modernism and Post-War eras.
Sotheby's and eBay officially announced their joint venture in July 2014. The union sees a new online platform for live online auction sales through the eBay website. It will include high-resolution images, hosted video capabilities and live streaming audio and video. This will be the first time live streaming has been used within eBay.
"We're very excited to bring live Sotheby's auctions to an audience of millions more collectors around the world through this partnership," said Bruno Vinciguerra, chief operating officer of Sotheby's. "The knowledge of Sotheby's experts on a tech-friendly and intuitive site will offer collectors a unique, welcoming experience."
He added: "This experience truly captures the best of both Sotheby's and eBay."
Sotheby's has had an increasing online presence with mobile devices driving 25% of Sotheby's online traffic in 2014 and almost 25% more online buyers in 2014 than in 2013. According to the TEFAF 2014 report: "Projections show online art sales could reach $13 billion by 2020."
Founded in 1995, eBay now has 155 million global active buyers in 190 countries with more than 3,500 auctions closing everyday with final prices of more than $5,000. The online marketplace started running live auctions last October. Devin Wenig president of eBay Marketplaces, said: "[It] has opened the door for more people to appreciate and participate in bidding on exceptional works of art, antiques and collectibles."
When the union was announced last summer, it was said that Sotheby's would bring 'renowned expertise, world-class artwork and collectibles, and historic auction experience,' while eBay would bring 'integrated payment solutions and unrivalled skill in attracting online collectors enable a global audience of 145 million active buyers to enjoy frictionless shopping' to the partnership.
At the time Vinciguerra said: "The growth of the art market, new generation technology and our shared strengths make this the right time for exciting new online opportunity."
Sotheby's competitor Christie's also has an online sales room which accommodates Christie's live online bidding, a similar idea to the Sotheby's and eBay live sales, offering real time bidding in auctions running in New York and London.
Lots in the opening auctions are now available for browsing online in advance of the live sales.